I started growing flowers when our children were very young. To put this into perspective, Elora is a junior in college and Jasper just graduated high school. So, I have been growing flowers for a long time.
When the kids were young, Chris worked as a mechanic in Seattle and commuted to work every day. During the week he was hardly home and I was looking after two young children so I had a lot of time to think about what I wanted to be when I grew up.
I tried many small business ideas in those early years to see what would stick, including planting an heirloom juice garden (not realizing it would be at least five years before my first productive harvest). I raised more than a hundred chickens in our backyard for our rainbow egg business, but the birds kept escaping from their nests, and I received angry calls from our neighbors every day.
I even tried my hand at growing miniature vegetables for local customers, but quickly realized that it would take a lot of pumpkins to make $5. I tried many different ideas, but none of them went anywhere.
Along the way, I added flowers to my garden and started selling the extra flowers. Unlike anything else I made or grew, flowers had the power to evoke such deep emotions. Every time I deliver my home grown flowers, complete strangers open up and share the most wonderful stories with me.
Almost every buyer had a flower memory that they could remember like it was yesterday. After I started sharing my own flowers, I finally felt like I had found myself.
From that season on, every waking minute was dedicated to the garden. I was obsessed. But I knew very little about floriculture.
I spent almost every evening and weekend camping out in online chat rooms, having long question-and-answer sessions with flower growers across the country, and filling my days by reading every horticulture book my local library could order and trying to make it all happen. I studied in my garden.
At that time, social media was not a thing yet and there was very little information on the subject. I constantly turned to Lynn Byczynski's Flower FarmerSarah Raven's Cutting gardenand Martha Stewart's Gardening: Month to monthplus a few trade publications, but other than that, I made it up as I went along.
I'm all for teaching myself, but trying to build a business from scratch with very little time to get going and no community was incredibly lonely and difficult. As I learned everything as I went, I made many painful and expensive mistakes.
Looking back on those early days, I'm still amazed that I haven't thrown in the towel. I failed more than I succeeded, and for the first few years I actually thought about quitting every day.
Nothing came easy and every failure felt like proof that I was on the wrong track. Whenever my confidence was shaken and I questioned what I was doing, Chris would always tell me, "Flowers are different. Just keep going." So I would get up, dust myself off, and try again.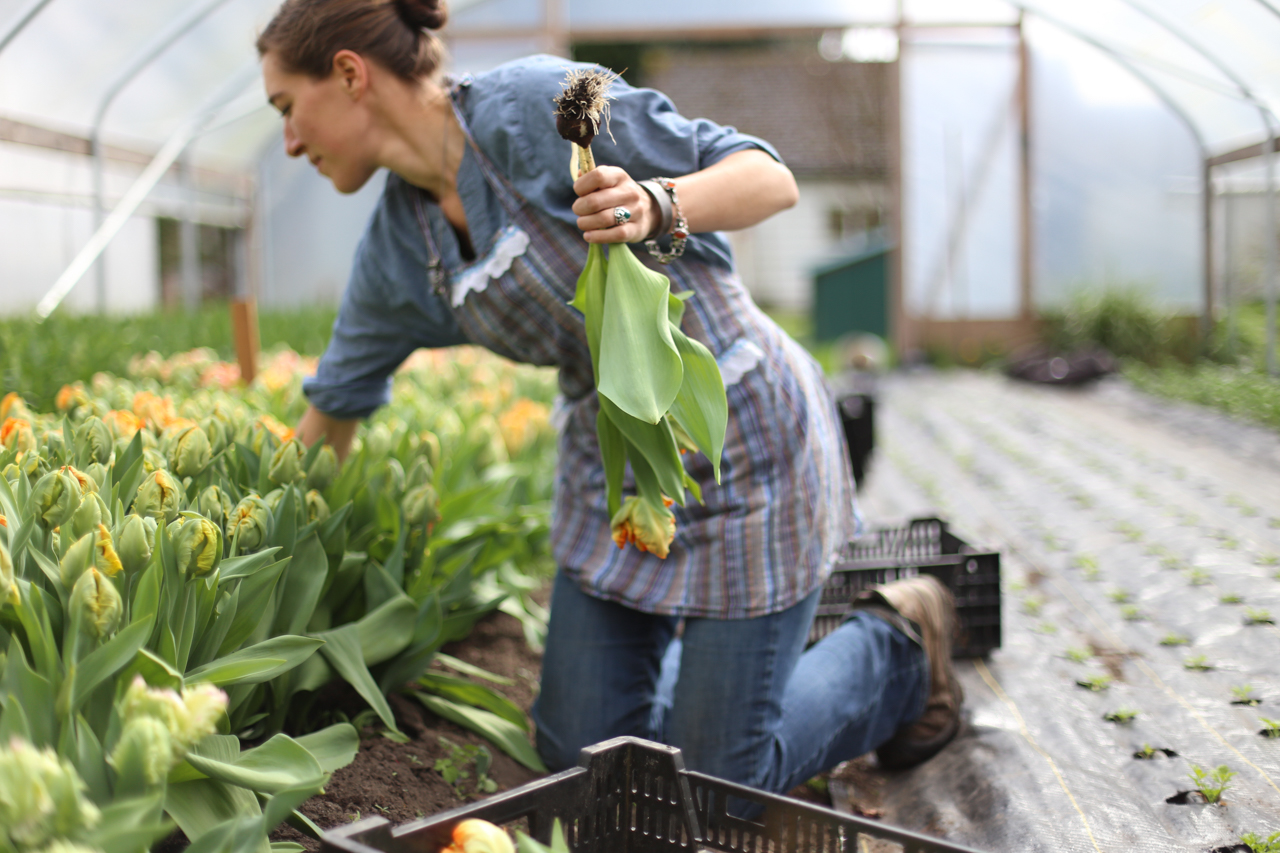 Although I stumbled my way through the first few years, I was still able to build a small business in our backyard and eventually started making a small profit. Every penny I made from my flowers paid off the debt we incurred a few years ago.
Because we were so determined to get out of debt and clean up the mess we had created, there were no extra funds I could invest in myself or my studies.
I've spent many hours running circles around our garage making thousands of mixed bouquets, dreaming of the day I can finally leave the farm and learn from my flower heroes. My heart ached every time one of them announced an upcoming class or workshop.
I was working hard and while I was making good progress paying off our debt and growing and arranging flowers, I never felt like I was getting any closer to realizing the big dreams I had for myself.
During that time, I had started writing articles about my floristry journey and had the opportunity to be interviewed Ariella Cesarthe godmother of seasonal floral design and we became friends. He knew I would love to attend one of his seminars, but I never got around to it.
I'll never forget the day I got the email saying I could attend his next seminar for free. Up until then, my flower journey had been incredibly challenging and nothing had been easy. I was so tired of work that I was on the verge of quitting altogether.
So when I received this offer, everything I believed to be true was challenged in the best possible way. In that moment, I decided that if I ever had something of value to share with someone else who needed a lift, I would pay it forward as many times as I could.
The workshop was beyond anything I could have imagined and the experience completely changed the course of my life. After that blissful week in California changed, I returned to the farm.
Having someone I admire believe in me so much helped me believe in myself. This act of generosity felt like finally getting permission to follow all of my long held dreams.
I quickly began overhauling my small flower business and things really took off from there. In just a few short years, I had the opportunity to write my first book and finally welcome over 500 budding and established growers and designers to study with us on our little 2 acre farm.
Over the next few years, our small family operation grew and we started a seed company, built an amazing little team, and were lucky enough to find our forever farm, he wrote. two more booksand moved our on-farm seminars online.
I can easily trace each of these blessings back to the moment I received that life-changing email. You never know how much sharing with another person can completely change their life.
I've done my best to instill Ariella's generous legacy in everything we do, and our scholarship program is my favorite way to pay it forward.
If you long to fill your life with more flowers, but a Floret workshop is not available, I highly recommend you take the time to apply for one of our scholarships.
As we get closer to the opening date for scholarship applications, you will be able to get all the specific details about it here.
The application process is simple – it's just two short essay questions of 250 words and a little information about yourself. In the first essay, you will be asked to give us a brief introduction about yourself and your flower business, organization or future business idea. In the second essay, you will tell what interests you most about the Floret Online Workshop and how it will help you achieve your goals.
Join the waiting list below to be notified when the application period opens.
Hosting the Floret Fellowship is always a highlight of my year, and I can't wait to read everyone's applications!