I started growing flowers more than 15 years ago in my backyard when my kids were still really little. At that time social media wasn't even a thing yet and blogging was just starting to gain popularity.
Flower growing was such an obscure topic and there was very little information available for me to reference. Lynn Byczynski's book The Flower Farmer and Sarah Raven's book The Cutting Garden were the only resources that I had to go off of.
Not long into my flower growing journey, I joined the Association of Specialty Cut Flower Growers (ASCFG) in hopes of learning more about flower farming. I was welcomed into a generous community of like-minded growers, which was the first time I felt like I had belonged anywhere in my adult life.
The ASCFG had a members chat room and I spent countless hours reading every past conversation thread, asking a million questions, and sharing any information or experience I had (which was very little at that time) on a given topic. I was what you would call a "power user," and I'm sure I annoyed the heck out of the more experienced growers with all of my newbie questions, but for some reason they took pity on me and answered every one of them over time.
My passion and curiosity quickly eclipsed the resources that were available, so I started looking around for other ways to learn more about growing unique flower varieties on a small scale without chemicals.
I started applying for growers grants in order to get funding to conduct variety trials. One of the grant requirements was that I would share my findings with others in my industry and that's where I got my start with writing.
Those trial reports eventually turned into articles for The Cut Flower Quarterly, then I got a job writing a monthly flower column in Growing for Market magazine, and then in an effort to practice writing, I also started this blog.
I came to flowers and to writing with no formal training, just an insatiable curiosity and a love of sharing. I made a lot of mistakes in those early years but I also learned a ton, and over time built up a loyal following of readers both in print and online. Their encouragement spurred me forward to keep learning new things and sharing my findings.
Through the ASCFG, I met another young passionate farmer-florist who had a small urban flower farm in the heart of Philadelphia named Jennie Love. Jennie and I became fast friends and in an effort to keep our creativity alive while working incredibly long hours to build our flower businesses, we came up with a fun idea.
Jennie and I dared each other to make a bouquet every week for the entire growing season using only locally-sourced flowers that we grew ourselves or sourced from local growers within a 60-mile radius. Living on opposite sides of the country in very different climates with very different tastes, we wanted to see what was happening in each other's garden and keep creatively connected during our busiest season. Every week we posted a picture of our arrangements on our shared blog called The Seasonal Bouquet Project and listed the ingredients we used in our designs.
In addition to providing us with a creative outlet, we were trying to demonstrate that it was possible to use only local, seasonal product and inspire other growers and designers to think outside the box and work with what was available anytime of the year. At that time, this idea was completely unheard of. I don't think either one of us knew how much of an impact that project would make, but by the end of the year we had built up quite the following and as a way of celebrating the project's success, we decided to host a little class at Jennie's farm to end the season on a high.
Tickets for our first workshop sold out within a couple of hours and to meet the demand, we added two more dates.
It was such an inspiring and eye-opening experience to see just how much people were craving practical knowledge about growing flowers on a small scale and arranging seasonal blooms in a natural way.
After that experience, I came home and decided that I wanted to help as many growers as I possibly could by teaching them about what we had figured out on our small farm. And that's how the idea for the Floret Workshop was born.
The first few workshops we taught were pretty rough around the edges. We spruced up our dingy little garage and rented two dozen folding chairs and filled the days with as many hands-on demonstrations as we possibly could.
We had tiny spiral-bound notebooks printed which included my favorite plant lists, social media tips, and some simple step-by-step instructions for bending hoops, proper plant spacing, and succession planting.
After each workshop, we would spend the next week debriefing how it went, how we could do better next time, where students still had questions, what we needed to expand upon…
The list of improvements went on forever and we revamped and upgraded after every single workshop until we eventually built a full curriculum and wrote a complete course book.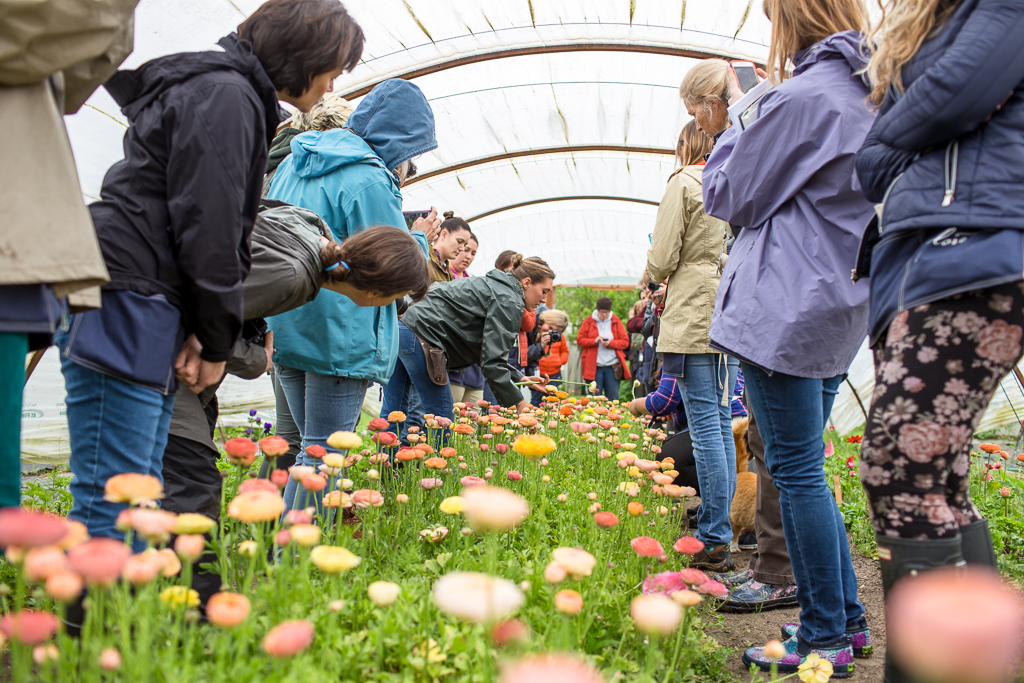 Over the next five years, we welcomed more than 500 students to our tiny little farm for three-day intensive classes. In all, we hosted 24 on-farm workshops on small-scale flower growing and seasonally-based floral design.
The experience was life-changing for everyone involved. We watched students from all over the world go through our workshops and have huge breakthroughs in their lives and then go on to start hundreds of successful flower-based businesses.
For each workshop, we assembled the most amazing support team of experienced farmer-florists, many of whom still help us today. Having a chance to share their wisdom with so many newcomers was both rewarding and really meaningful.
For me personally, the workshops pushed me so far out of my comfort zone (I'm an extreme introvert) and it felt like taking a crash course in leadership and public speaking.
In order to show students exactly how we built Floret from nothing into a thriving business, we opened up our farm and home so that they could see the full picture.
Simultaneously we were working on developing a comprehensive curriculum, demonstrating all of the techniques that we used on our farm in a way that would accommodate different learning styles (visual, physical, logical, etc.) all while answering every question that was asked and adhering to a really tight schedule.
Our small team managed to pull off the massive feat of planning, coordinating, and hosting these jam-packed events all while creating such a warm and safe environment where students could really let down their guard and dig into their dreams.
They managed to do this seamlessly each and every time no matter how crazy things were behind the scenes.
We did all of this while continuing to run our wholesale flower business and arrange flowers for dozens of weddings each season.
When I look back at that time, I still don't know how we managed to do it all. It was one of the hardest, most rewarding, and fulfilling times of my life.
Each year when we would open up registration, tickets would sell out faster and faster until finally we filled seven workshops in under 2 minutes and crashed our website.
At that moment we realized that hosting workshops on the farm just wasn't sustainable anymore.
People who had been on our waitlist for three or more years weren't even able to secure a seat and we knew there had to be a better way.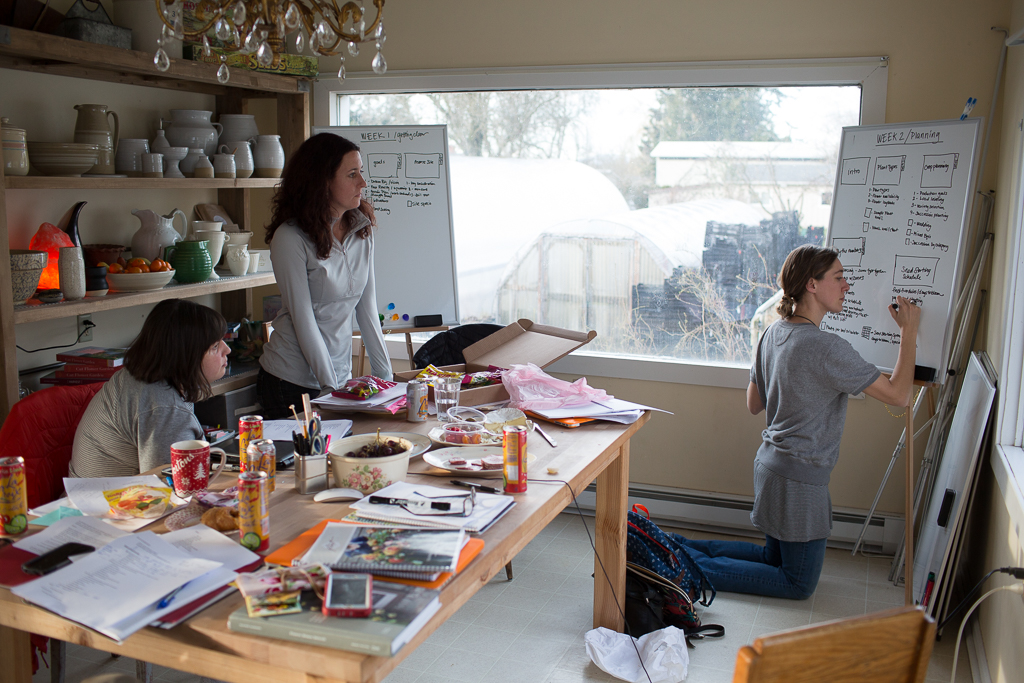 We spent the better part of the winter holed up in my dining room transitioning our in-person curriculum into an online program that we then filmed over the course of the next growing season.
The online format opened up a whole new world of possibility and allowed us to take students through an entire season here on the farm, getting to demonstrate all of the important techniques in detail, and giving students the ability to rewatch any of the videos they wanted whenever they needed a refresher.
It also removed a lot of barriers. We no longer had a limited class size, students didn't have to travel, they could go through the program at their own pace, and we could expand and upgrade the material based on the needs of our students at any time.
When we transitioned the workshop online we were so worried about losing the community and connection piece that was the heart of the on-farm experience. But what we found is that nothing could be farther from the truth.
The amazing farmer-florists that once assisted at our in-person workshops now moderate our online community forum and lend their advice and wisdom to students all over the world. And we've seen so many students form real-life friendships, set up dahlia tuber exchanges, host meetups, go in on plant orders together, and visit each other's farms to learn and get inspired by one another.
Now, 10 years later, our little farming course has evolved into a full curriculum that spans six foundational modules, includes more than 150 video tutorials, and has a 290-page printed course book, which we lovingly refer to as book number four.
During the online workshop, Jill and I host weekly Q&A sessions and students have the opportunity to participate in the Floret Learning Community, which is an online forum moderated by some of the best flower farmers in the country.
We've poured so much of our hearts into this program, and of all the things we've ever made, it's by far the one I'm most proud of. It has been so rewarding to have the opportunity to share what we've learned along the way with so many people around the world.
Thanks for joining me on this little walk down memory lane!
If you'd like to learn more about our next Floret Online Workshop, you can join the waitlist below.